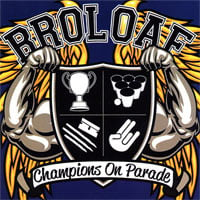 $

10.00
Punk Rock Jocks from Scottsdale, AZ. These gnarly dudes are high on coke and drunk with power. Killer Jams about winning, drinking, fighting, sports, hazing, getting wasted, banging chicks, college, selling out, and what life is like when you're the best.
Poking fun at the current state of American pop culture and hit TV shows that feature a unique aspect of today's over-privileged youth culture, BroLoaf tells the tale of huge egos, conceit, drug abuse, sex scandals, and self destruction through a hardcore punk rock music spectacular.
In other words, it's not just a bunch of assholes playing instruments, but a raucous stage show, made complete with a production standard unmatched by rivals and intense crowd participation.
BroLoaf started out as the champions of the Thrash of the Titans contest, which they turned into a record release show for their first EP "Shits Tight". The second show was also a release for their second EP "Weakend Warriors". And now with the release of their first full length album titled "Champions On Parade" BroLoaf is ready for total world domination.
BroLoaf now consists of former or current members of: WarZone (Victory Records), Vision (Epitaph Records), North Side Kings (Thorp Records), Roger Miret and The Disasters (Sailors Grave Records), Morning Glory, GreenHaven and Casket Life.